1091 Stimmel Road, Columbus, Ohio 43223 USA
Phone 614-443-4634 Fax 614-443-4813
Email: info@ramprocess.com
---
PDF Retail Order Form for Studio Accesories
Fountain Glazer
The Fountain Glazer is a foot operated glaze pump constructed of sturdy steel tubing and heavy duty non rusting cast aluminum parts. It measures 27" x 11" x 36" and has a 16 quart stainless steel reservoir.
How does it Work?
The Fountain Glazer is a foot powered tool, requiring no electricity, hydraulic or pneumatics in its operation. After filling the glaze reservoir the operator holds an inverted pottery form over the center of the bowl and depresses the foot pedal. A controlled velocity "fountain of glaze" coats the inside of the vessel in one swift motion, then the pot is dipped into the glaze to the desired level (see vacuum hand description) to complete the glazing cycle. Our specially designed and cast bell pump provides a low volume, high velocity glazing action making it possible to glaze a wide variety of inside pot shapes. Convenient water clean out fittings are provided to clean out the pump and the stainless reservoir is also easily cleaned for glaze change over.
Why do I need one?
1. Time savings. If you glaze more than 2,000 pots a year, the Fountain Glazer will save about 50% of routine glazing time.
2. If you have to apply liner glazes for salt glaze pots or lamps for instance, the Fountain Glazer is designed for you.
3. Its simple operation makes competent glazing accessible to less skilled apprentices or employees.
4. No air borne particles or overblown waste is generated as with sprayed glaze application.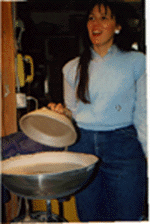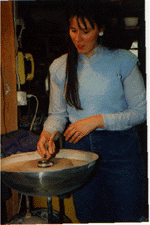 A good demonstration of how effective this piece of equipment is can be seen at site of William Melstrom - HandSpiral.com
The Vacuum Hand
The Vacuum Hand is a vacuum suction holder that makes it possible to pick up and securely hold onto pot bottoms without having to use your finger grip. A comfortable vacuum handle and a 10' long reinforced vacuum line attach to our (optional) portable vacuum pump or to the vacuum pump from your de-airing pug mill. The Vacuum Hand is a companion tool of the Fountain Glazer.
How does it work?
With the appropriate vacuum pump operating, the Vacuum Hand suction head is positioned on the bottom where it will take a firm hold. The operator then holds the pot over the Fountain Glazer reservoir (or other glaze container) and dips the pot down to the desired level. The freshly glazed pot is then righted and the vacuum is manually released.
Glaze Mixing Tower
The Glaze Tower is a variable speed glaze mixing rig employing a special track and swing feature. Any glaze buckets placed within its 180° arc can be easily mixed. It is self mounting on a floor stand and measures 80" high. The Glaze Mixing Tower is constructed of steel and is painted for easy cleaning.
How does it work?
The Glaze Mixing Tower provides a strong, stable mixing force. The operator lifts the track mounted and counterweighted motor arm assembly up, over and down into the bucket of glaze to be mixed. The variable speed mixing action and the stainless steel shaft and prop insure thorough mixing of almost any glaze.
Why do I need One?
1. It is a time and fatigue saving alternative to hand mixing or hand held electric drill mixing.
2. Thorough glaze mixing is important for consistent glaze results. The Glaze Mixing Tower mixes fast and complete and is good for quick remixing of glazes prone to settling while working.
3. The Glaze Mixing Tower can also be used effectively for mixing casting slips and plaster batches.
Clay Cutter
The Clay Cutter is a versatile tool. Whether you purchase or pug your own clay the Clay Cutter will prove to be a time saver. Constructed of tube steel it is durable and portable. It fits on any flat surface, has a plexiglass table for easy cleaning and provides uniform, premeasured clay pugs. The adjustable cutting wires can produce pugs as small as one inch and eliminates weighing or measuring pugs throughout the studio.
FEATURES
lightweight construction
wires easily adjust for different size pugs
pretensioned wires accommodate wire stretch, eliminating adjustments
adjustable cutting size - from 1" to 18"
accommodates pugs up to 18" long and 12" wide
Hydraulic Die Cart & Storage System
The RAM hydraulic die cart and storage system was developed to work directly with RAM presses. The system was designed to make die set up easier and quicker for the larger size dies that many potters are now using.
The cart is manufactured to specifications which allow it to safely lift up to seven hundred and fifty pounds. By using its hydraulic lifter the operator raises dies to the press level for easier set up. The cart has both casters and wheels for
controlled, safe movement and a winch to assist in loading the dies onto the press. Each die rack can hold up to eight dies of varying depths. It was designed so that the cart can be moved into place with a minimum of effort and the dies can be picked up or placed back easily. This system is much safer than stacking one die upon the other. The dies are stored off the ground, away from damp, uneven floors. This system protects your investment in dies and makes set up easier and faster.
The RAM Process - Purge Unit - Table Top Press - Studio Press - 1362 Industrial Press - 6987 Industrial Press
Rollerforming - PressureCasting - Finishing Machine - Pug Cutting Equipment - Mixer - Studio Accessories - Dies -
Mold Making Supplies - Used Equipment - RAM Process History - Art of Die Making - What's New - RAM Wear - Home - Email - Links